Ingredients
Apricot Kernel Oil - (Prunus Armeniaca)
It is quickly absorbed by the skin and does not keep the skin oily after it is applied. Apricots are not just useful for maintaining the smooth and shiny appearance of the skin; it also aids in treating a number of skin diseases including eczema, itching, scabies, and a number of other irritating conditions. This is specifically due to the antioxidant compounds found within apricots.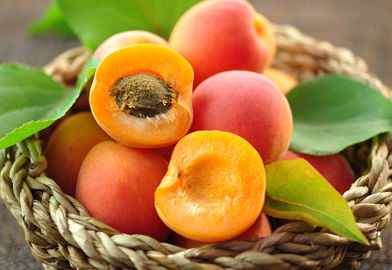 Not only does it have a healthy amount of Vitamin A (60% of your daily requirement per serving), which has long been associated with healthier skin, but the antioxidants in apricots protect the skin from the effects of free radicals, which can lead to skin deterioration and signs of premature aging.
Bees Wax (Organic)
When applied to the skin, beeswax forms a protective barrier that helps protect it from environmental assaults, while also holding in moisture and reducing dryness. This is one of the reasons beeswax is often used in lip balms. Unlike ingredients made from petroleum, beeswax doesn't "suffocate" the skin, and won't clog pores.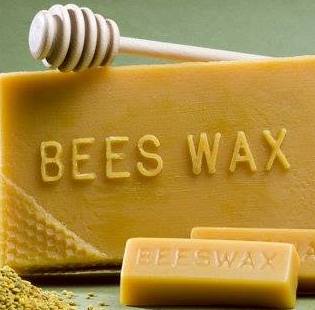 ​Like honey, beeswax has antibacterial properties, helping keep skin clean and reducing the risks of contamination in the formula itself, this assists with the treatment of nappy rash and other bacterial skin conditions.
Blue Gum Essential oil - (Eucalyptus Globulus)
Blue Gum (Eucalyptus globulus) is an extremely tall forest tree, found in the south east corner of Tasmania near Hobart, it is also naturally found just on the very outer south east regions just out of Melbourne. Eucalyptus essential oil has a fresh, camphoraceous aroma.  Among its many properties,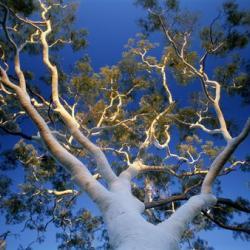 E. globulus is antibacterial, antifungal, antiseptic, anti-inflammatory and the oil of this tree has antiviral and wound healing properties, which for hundreds of years the Aborigines of Australia have used Eucalyptus leaves for their antiseptic and healing actions. 
Buddha Wood Essential Oil - (Eremophila mitchellii)
The oil is used in aromatherapy for grounding or assisting in meditation. Buddhawood is known for being an exceptionally earthy, grounding oil. Its slightly smoky, mossy aroma is renowned for its potent plant powers and ability to stabilize the mind and center the spirit. It is a flowering plant in the figwort family, Scrophulariaeae and is endemic to Australia.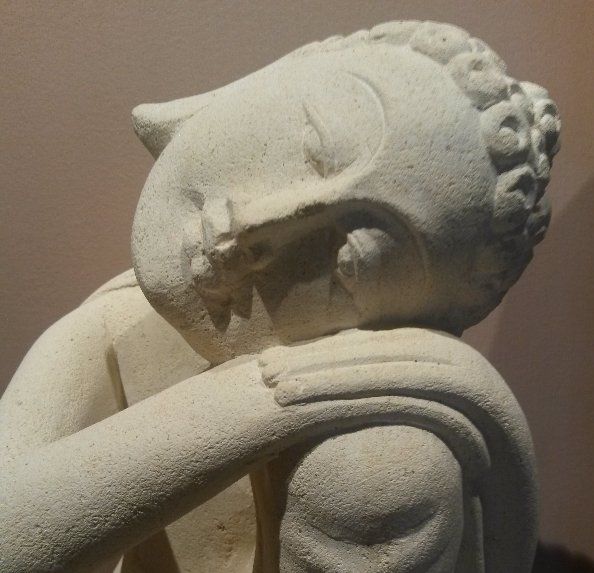 It is a large shrub or small tree with flaky bark, white or cream-coloured flowers and is widespread and common in New South Wales and Queensland. The species was first formally described in 1848 by the  botanist George Bentham. The plentiful trees are wild harvested and the timber is steam distilled for around 7 days. 
Crown of Gold Seed Oil - (Barklya Syringifolia) 
Is an Australian native rainforest tree "wild harvested" in eastern coastal Queensland & New South Wales. The extraction for this oil has captured many anti-oxidants, anti-ageing actives, anti-inflammatory actives & wound healing properties.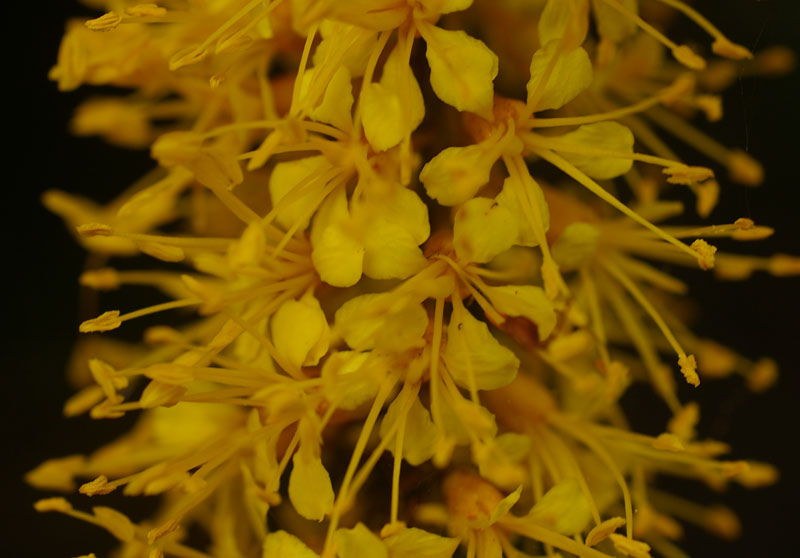 Phenolic Anti-oxidant Gallic Acid is known for its anti-inflammatory, anti-fungal & anti-viral properties. It acts as an anti-oxidant to protect skin cells from free radicals and is an excellent wound healer.
Desert Lime Seed Oil - (Citrus Glauca)
It is a thorny shrub or small tree wild harvested from bushland of the semi-arid regions of Queensland, New South Wales, & South Australia; where it is relatively common. The Australian Desert Lime is packed with tiny pearls of potent actives and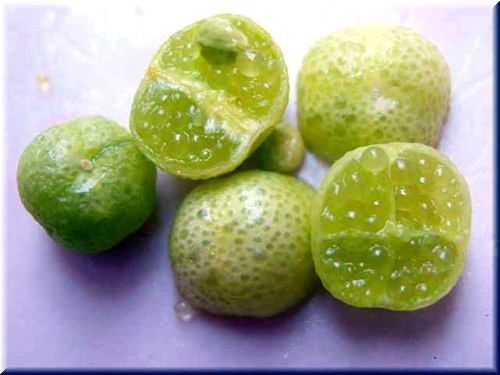 compounds that support collagen production of sunscreens & eczema, psoriasis and skin repair. Coumarin has Anti-fungicidal, and  Anti-inflammatory &  Antioxidant benefits. 
Eucalyptus Australiana - (Eucalyptus Radiate)
The Australian Indigenous Aborigines used a wide range of natural plant remedies, and these would vary from tribe to tribe according to the indigenous species that were available to them. Wherever any species of eucalyptus grew they were used to heal wounds, cuts and burns, as well as treat various respiratory conditions. Eucalyptus radiata essential oil has a wide range of useful therapeutic properties.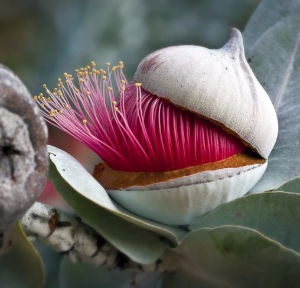 It has a powerful antibacterial, antifungal and anti-infectious action, which makes it extremely useful for all types of infections. However, it is still advisable to exercise care with very young children due to the cineole content of this essential oil. To be safe, never use either eucalyptus radiata or globulus essential oils near very young babies.​
Jojoba Seed Oil - (Simmondsia Chinensis)
Jojoba Oil does not store tri-glycerides in the seed as other oil-seed plants do but accumulates a unique wax ester that is known as jojoba oil. Jojoba oil has many qualities in helping the skin cells reserve and retain moisture as it closely resemebles that of your own skin sebum, your skin's own lubricating medium. This gives jojoba a natural affinity to the skin, and is readily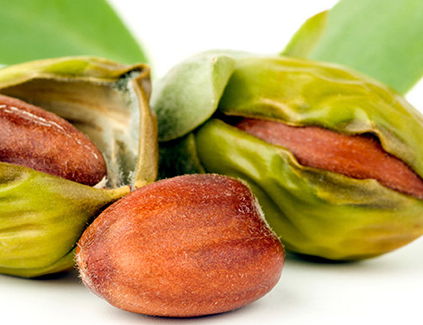 a​bsorbed without making the skin feel greasy or tacky nor does it clog the pores. It is very gentle and so it suits all types of skin even the most sensitive.  Jojoba Oil has many qualities for the skin including reducing wrinkles, acne and inflammation of the skin. Australian farmers do not use pesticides in the plantations and neither heat or chemcials during extraction. 
Kakadu Plum Seed Oil - (Terminalia Ferdinandiana)
Kakadu Plum (also known as Gubinge, Billygoat Plum or Murunga) is a native tree from Australia, found exclusively in the Northern Territory & Arnhem Land. Indigenous Australians have used this plant & fruit extensively for food, its healing properties & traditional medicine,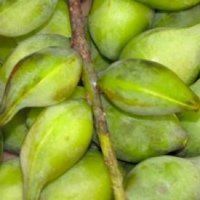 i.e antiseptics & soothing balms for aching limbs. Tests have shown it contains the world's highest levels of vitamin C.
Kangaroo Apple Seed Oil - (Solanum Aviculare)
Kangaroo Apple is native to NZ, Papua New Guinea & the east coast of Australia. Also known as Poroporo. The fruit is used as a poultice on swollen joints. The plant contains a steroid that's important to cortisone production, which reduces inflammation.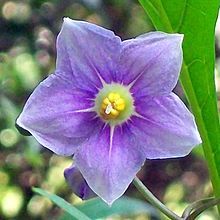 There are many recorded instances of it's effectiveness amongst the early settlers in New Zealand and the Maori's for healing "the itch" the leaf was used for the itch, a poultice for sores, chronic eczema, and psoriasis. 
Kunzea essential oil - (Kunzea Ambigua)
Kunzea is an essential oil derived from the the flowering branches of Kunzea ambigua (Myrtaceae family), from sustainable wild-growing plants in North-East Tasmania. The Oil is being used effectively in the treatment of: eczema, dermatitis, under nail infections and skin ulcers. Iit has powerful anti-infectious and antimicrobial properties, that make it into a very effective essential oil for the treatment of many types of infections.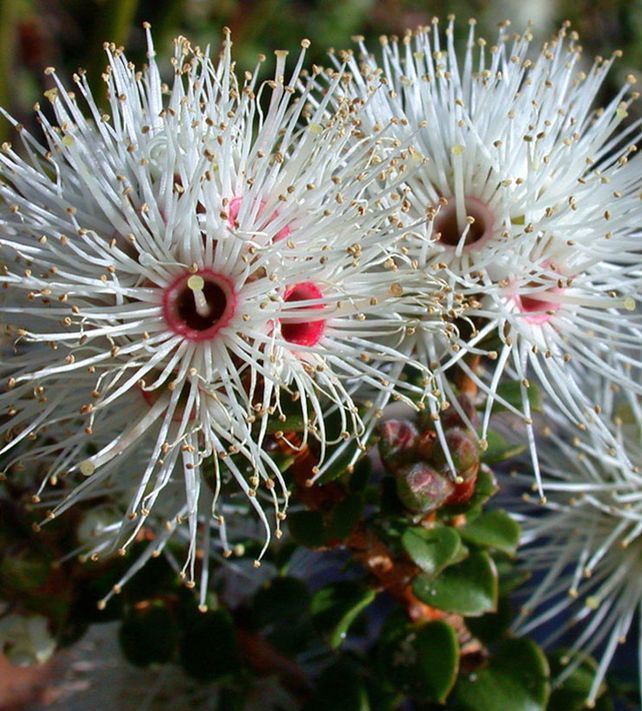 The overall composition of Australian Kunzea oil, with a low content of 1,8 cineole, sees it as a safe, non-toxic essential oil for general use including childrens skin. In 1998 the University of Tasmania's Aquahealth testing laboratory found that Kunzea Oil was an effective killer of bacteria that are life threatening to humans and resistant to antibiotics.
Lemon Myrtle essential Oil - (Backhousia citriodora)
It is endemic to subtropical rainforests of central and south-eastern Queensland, Australia. The Australian Lemon Myrtle is the world's richest known natural source of citral (90 - 98%). Laboratory research has concluded the citral essential oils contained in Lemon Myrtle to be highly anti-bacterial, anti-microbial and anti-fungal.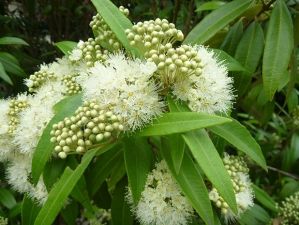 The Rideal-Walker scale, put it above the tea tree plant and the eucalyptus citriodora plant. Therefore, the distilled essential oil from the lemon myrtle plant has significant antifungal and antimicrobial characteristics.
Macadamia Nut Oil - (Macadamia integrifolia)
Macadamias are Australia's only native plant commercially food grown for food consumption, its oil is an additional product from the kernel production. The trees are grown conventionally in plantations, nuts are mechanically harvested, mechanically processed (nut cracking of the hard woody shell). They are stored to a specific moisture content,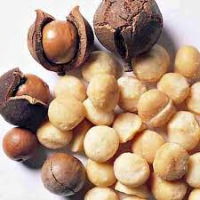 then crushed or pressed to extract the oil.Because it is so similar to the natural sebum present in the skin, when macadamia is applied to the skin the oil quickly penetrates the outer layer of skin. It is also highly anti-inflammatory, one of the key reasons that macadamia oil helps to calm and soothe irritated skin.
Peppermint Gum Essential Oil - (Eucalyptus Dives)
The eucalyptus tree (also known as Tasmanian Blue Gum) is an evergreen tree native to Australia that's often thought of as the main food source of koala's. While it provides amazing nutritional support for wildlife, the essential oils extracted from eucalyptus leaves also have powerful medicinal properties.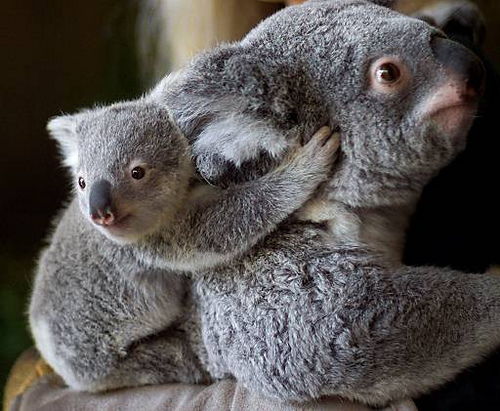 Eucalyptus essential oil has antiseptic qualities because of its germicidal quality. Eucalyptus oil is used for healing wounds, ulcers, burns, cuts, abrasions and sores. It is also an effective salve for insect bites and stings.
 Safflower Seed Oil - (Carthamus Tinctorius)
Pressed from the blooming plant's seeds, safflower oil contains linoleic acid, an essential fatty acid that offers many benefits for skin. This acid is a key reason why safflower oil works so well in skin care products. Safflower oil is used as a lubricant with occlusive properties, meaning that it acts as a protective barrier to prevent water from leaving your skin.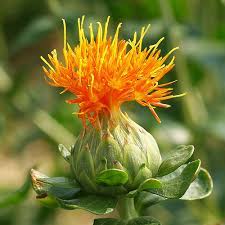 It works with your skin to soften dryness, smooth roughness and soothe some skin problems The high content of linoleic acid in safflower oil makes it ideal for boosting the quality and appearance of your skin. The linoleic acid can combine with sebum to unclog the pores and reduce blackheads, as well as acne, which is a result of sebum build-up under the skin. 
Tea-Tree Essential Oil - (Melaleuca Alternifolia)
Tea tree oil (TTO), or melaleuca oil, is an essential oil with a fresh camphoaceous odor. It is taken from the leaves of the Melaleuca alternifolia, which is native to Southeast Queensland and the Northeast coast of New South Wales, Australia.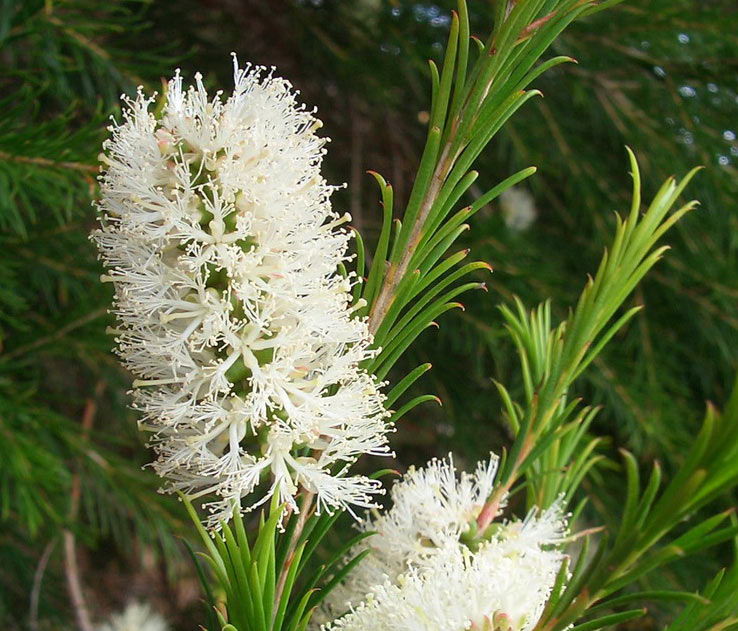 Tea tree oil has been long valued for its antifungal, antibacterial, and antiviral properties.The chemicals in tea tree oil may kill bacteria and fungus and reduce allergic skin reactions. Experts believe the most beneficial component of tea tree oil is its high terpene content.
Walnut Seed oil - (Juglans Regia)
Walnut oil is a rich source of unsaturated fatty acids, omega-6 polyunsaturated fatty acids, omega-9 and especially omega-3 fats found in the oil contribute to the skin health greatly. Walnut oil contains vitamin E and ellagic acid, strong antioxidants essential for the skin cells.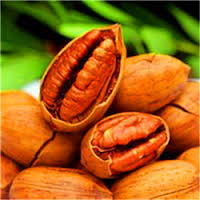 Moreover, it is high in minerals such as calcium, zinc, magnesium, selenium, copper and phosphrous. Walnut oil is believed to have an antifungal effect and can alleviate skin infections like athlete's foot.  The omega-3 fats present in walnut oil may lessen the symptoms of eczema by reducing inflammation and soothe the dry skin.